"In service to one, in service to all"
Council's Major Activities Programs
---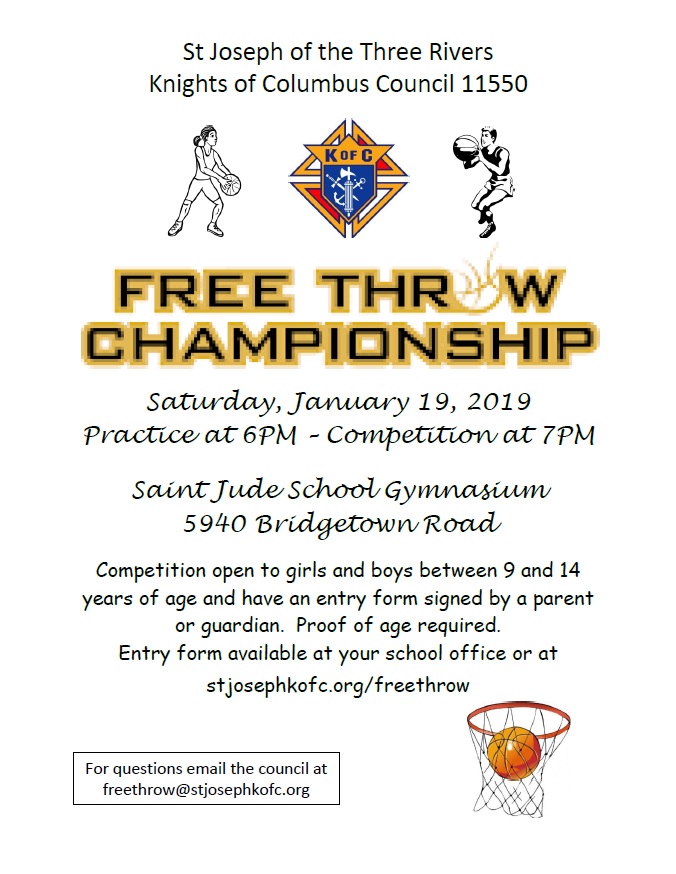 Saturday, January 19, 2019
Practice at 6PM – Competition at 7PM
Saint Jude School Gymnasium
5940 Bridgetown Road
Competition open to girls and boys between 9 and 14 years of age and have an entry form signed by a parent or guardian. Proof of age required.
Protected by Safe Environment
---
2019 Tony Pagano Memorial K of C Italian Dinner:
The St Joseph of the Three Rivers Knights of Columbus will sponsor an Italian Dinner on Saturday, January 26th between 5:00 p.m. and 7:30 p.m. at Our Lady of the Visitation School Cafeteria (multipurpose room) located at 3172 South Rd 45248. Entrees will include spaghetti with marinara sauce with meat balls, Chicken Alfredo, Homemade Meat Lasagna and Veggie Lasagna. Side items include: Caesar Salad, broiled zucchini and potatoes with parmesan crust, sautéed green beans with tomatoes and basil, and Italian desserts. Drinks include ice tea, hot tea, coffee, soda and bottled water. Wine available by donation. Price: Age 11 and up $12, age 10-6 $6. Kids 5 and under Free. Proceeds will be used for K of C Charity Programs in our local parishes and community.
(Family, Council, Community, Church, Youth, Pro-Life)